Let us come to you!
Can you save the world? In five minutes?!
Try the Headless Horseman Mobile Escape Rooms. Great for:
Corporate Events
Team Building
Student/Camp Groups
Festivals
Birthday Parties
Fundraisers
Fraternity/Sorority Events
Call (845) 339-2666 Ext. 10 for booking inquiries and more information.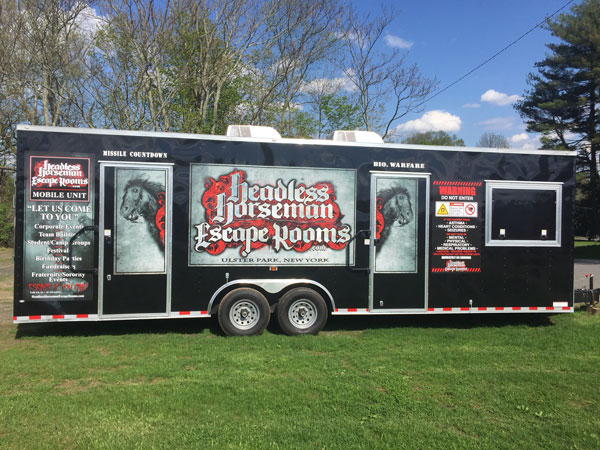 Mobile Rooms:
BIO WARFARE
As the world braces for a new superpower nuclear arms race, something less flashy keeps a black ops team awake at night, The Bio Weapon. The prospect of a germ warfare device in the hands of a home grown terrorist is real. You and your team have been ordered to a remote location where the biological materical has been detected. The stakes are high. You must dispose the this material or large-scale deaths and poisoning will occur. You have 5 minutes to dispose of this material. Good Luck!
MISSLE COUNTDOWN
You and your team work for a secret government agency commisioned to protect the United States from catastrophic disaster. Intelligence has located a secret nuclear missile silo controlled by North Korea here on our own soil! Your team has been sent in to assess the situation and save all of us from certain doom. You must act quickly because the missile has been remotely activated and you only have 5 minutes to disable it.